My name is pronounced "Tee" and if you want to walk without limping, learn it.
Assistant Director to Joe, Tee is his right hand. She's very proud of her name/ancestry and is quick to put anyone in their place who doesn't give it and her the respect they deserve. Not to mention, she's also quick to point out to others what their names mean in other languages (and it's seldom flattering).
She's a demolition's expert along with computer goddess. She speaks a total of eighteen languages and Joe refers to her as codename "Tiger" for the fact that she can move about unseen and unheard, but is capable of complete destruction when she finally strikes.
Be nice to Tee. Your life and income depend on it.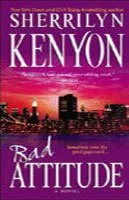 Look for me in...
BAD Attitude